High Pressure Cleaner Industrial Dust Collector Filter Cartridge Dust Collector
Product Detail
Product Tags
ITEM

DETAIL

M

odel 

name

CSDC-8L

Fan power

11KW

Handling air volume

6500-7000 M3/H

Number of filter cartridges

8

Fi

lter area

184 M2

Fi

lter material

Nano flame retardant filter material

Cleaning method

Pulse automatic cleaning

N

oise

<=80DB

C

ompressed air

0.5-0.6Mpa

P

ower supply

380V/50HZ

Dimension(L*W*H)

1400*2420*2540

Total Weight

1170KG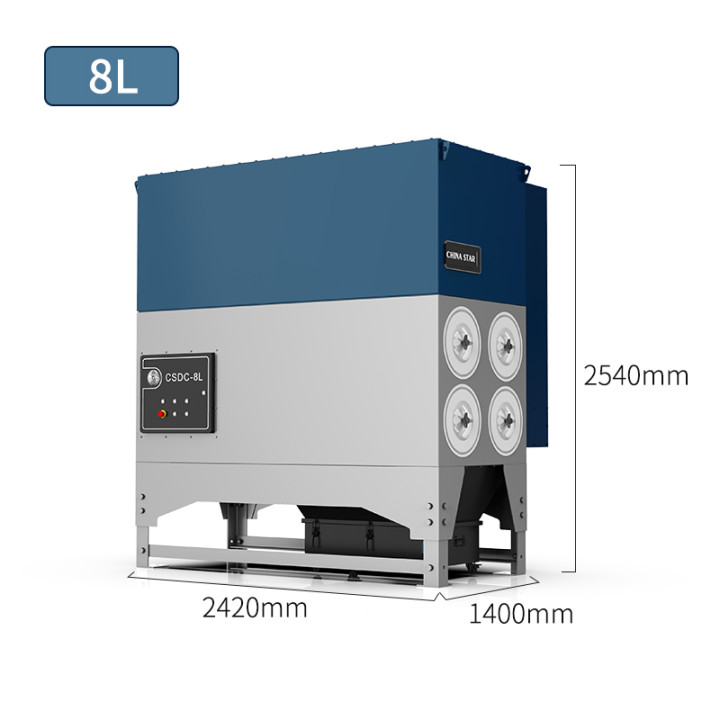 1. New filter material: anti-wear filter material
2. New structure: folded arrangement of hard filter material, no steel skeleton, no filter material wear
3. New theory: surface filtration replaces deep filtration dust, no longer penetrates and filters inside
4. The dust removal efficiency of the surface filtration of the filter cartridge type bag filter is much higher than that of the old type dust collector, which reduces the amount of pollutants discharged, and the air purification index has reached the world level.
5. The filter cartridge type dust collector has no filter material wear phenomenon, and there are no moving parts on its body, which can be used for a long time without maintenance (even if the filter cartridge is very convenient), avoiding the trouble of constantly changing the filter material of the old type dust collector, saving Save money, time and effort without secondary pollution.
6. The volume and weight of the cartridge type dust collector are smaller than those of the same specification, which saves the civil construction space and civil construction load, and saves the capital construction investment significantly.
7. The filter cartridge type dust collector has low resistance, low compressed air consumption and no maintenance workload. The electromagnetic pulse valve is more energy-saving than all kinds of old dust collectors, saving more than 30% of capital. No enterprise can ignore the significant economic benefits brought by this energy-saving effect to the enterprise.
Scope of application of filter cartridge dust collector:
1. Suitable for plasma, laser cutting, welding fume and other working conditions in large steel structure, shipbuilding, automobile manufacturing, metal processing and other industries.
2. Recycling of precious non-ferrous metals such as tungsten powder, molybdenum powder, and pharmaceutical dust. Pulse filter cartridge dust collector is widely used in metallurgy, electric power, building materials, machinery, petroleum, chemical industry, mining, coal, cement, grain, boiler, refractory, and other industrial and mining enterprises to remove and purify non-fibrous industrial dust and recover materials. .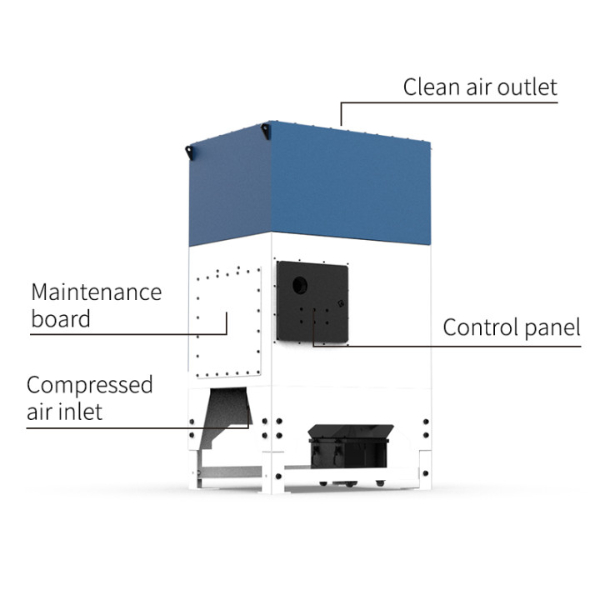 ---
---