Portable Mobile Welding Fume Smoke Dust Collectors
Product Detail
Product Tags
Welding fume purifier is an environmental protection equipment used for electric welding fume purification. It absorbs and treats waste slag and toxic and harmful gases generated during welding, shielded welding, argon arc welding and other welding processes by filtering and purifying. Through the welding fume dust collector, gas pollution can be prevented, the health damage of harmful substances to operators can be reduced, and occupational diseases, mainly caused by pneumoconiosis, can be prevented. The working principle of the welding fume purifier is that the exhaust gas passes through the centrifugal fan to collect the welding fume and dust through the suction hood, and the fume enters the dust removal bin of the welding fume purifier, and the larger particle dust is directly purified due to the effect of gravity sedimentation. The fine dust enters the welding fume purification system and flies to the filter cartridge with the air flow, and is trapped on the surface of the filter cartridge by the filter cartridge and continuously accumulates and falls to the lower dust collection drawer. The purified clean air can be discharged normally.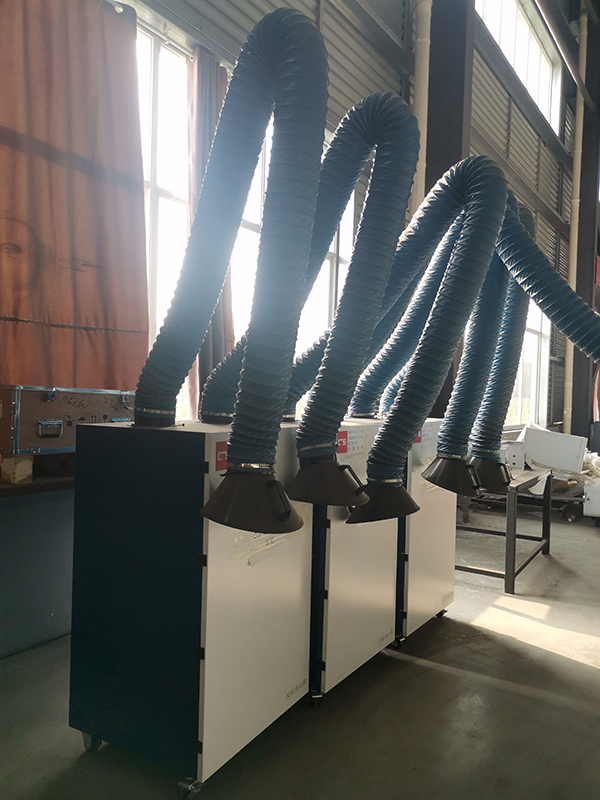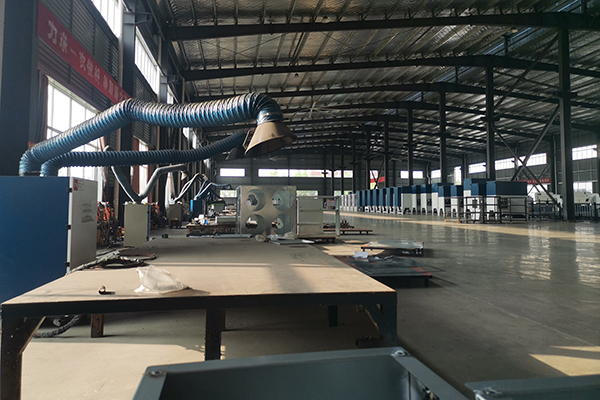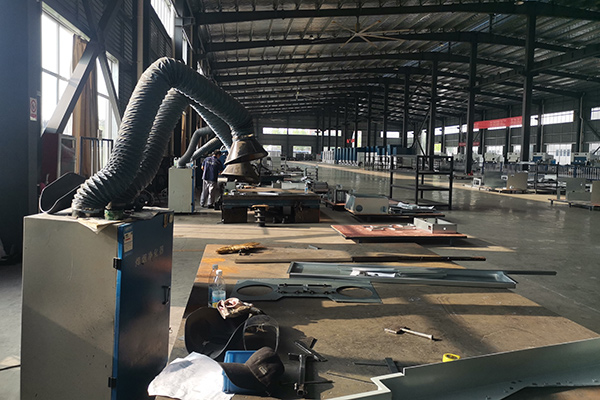 What is the structure of the machine?
The main components include: universal vacuum arm, high temperature vacuum hose, vacuum hood (with air volume control valve), flame arrester, flame retardant high-efficiency filter element, pulse blowback device, pulse solenoid valve, differential pressure gauge, clean Room, activated carbon filter, ash drawer combination, flame retardant sound-absorbing cotton, new Korean-style casters with brakes, fans, ABB motors and electric control boxes, etc.
What are the characteristics of our welding fume extractor?
1. The suction arm can be rotated 360 degrees at will, hovering and fixed at any time;
2. Double-stage filtration, the lining stage filters out large particles of dust; the second-stage filtration is a high-efficiency precision filter element;
3. Advanced fan design, large air volume and low power consumption;
4. The surface of the high-efficiency filter cartridge is (high-tech process) hot-compressed polytetrafluoroethylene film, and the filtration accuracy is as high as 0.3um;
5. With automatic pulse control cleaning function, thoroughly clean the filter cartridge;
6. The filtration efficiency of the purifier reaches 99.9%
7. After the fan stops running, it has the function of manual ash cleaning after shutdown;
8. Adopt the protection device to prevent motor overcurrent and overload, with high safety;
9. The standard suction arm length is 2 meters, and the non-standard length is 3/4 meters.
---
Previous:
2022 Good Quality Dust Extractor - Industrial Pulse bag Dust Collector for Stone Crusher – Star
---